New Musical Offerings for School, Church, and Theater
​
We are thrilled to share our newest musical offerings with you. Below you'll find a wealth of music to choose from along with links to free downloads!
​
Heave Away Me Jollies
A traditional sea chantey from Newfoundland. The joyful rollicking feel of the chantey lends itself to the hand claps and foot stomps included in the choral arrangement. They should be performed with gusto and spirit! During the instrumental sections, feel free to improvise and embellish with added choreography such as adding step dancing or Irish jig style dance set in front or to the side of the choir. Be sure to end the piece with a powerful accented Heeyah!The percussion instrument used in the piece should be an inverted plastic 5 gallon bucket struck with hands or soft mallets.
The Kerry Dance
This charming arrangement stands out for its musical contrasts between lilting melodies and sad melancholic phrases, along with a surprise partner song ending. With a bright rhythmic accompaniment and additional original lyrics and melody lines, this piece works for any combination of voices with its two equal range parts.
​
​
In His Eyes
This lovely choral has a message relevant throughout time that "in His Eyes, we are one, all God's children neath the sun". A beautiful sentiment of unity, compassion, and acceptance. The two parts can be successfully performed with any combination of voices.
My America
Commissioned by the Indiana Music Educators for their 2019 All State Middle School Honor Choir, "My America" was written to celebrate the beauty and diversity of all the people who live in our country. Although our ancestors came from lands that span the entire globe, the legacy of freedom that was forged by all who came before us has made it our responsibility to treat each other with kindness, respect and dignity. The lyrics invite everyone to celebrate the differences that make each of us unique and special. This is the message of "My America." The words tell the story and are of the upmost importance. Please honor tempo markings and be sure to stress diction and enunciation.
Watch a video performance here >
​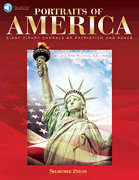 Portraits of America
Portraits of America is a collection of eight two-part choral arrangements, with piano accompaniment, that celebrate patriotism and spreading a sense of peace, harmony and tolerance throughout the world. Three of the chorals, Land That We Love; Hands Cross the Ocean and You're a Grand Old Flag, are arranged as traditional partner songs. Whether celebrating a patriotic holiday such as Veterans Day or the Fourth of July, or selecting music appropriate for concerts for world peace and unity, any of these engaging choral works will perfectly augment your commemorative program. Performance/accompaniment audio recordings and singer PDFs are included via digital access.
​
​
Rhythm Rhyme and Move in Time
This is a collection of lively musical games and classroom activities for music or general classrooms. Objectives and instructions are clearly stated with suggested movements and games written within the lyrics of the songs. Each game is a mini-lesson that can be extended to a full instructional period. The budget-stretching classroom kit contains a reproducible unison collection as well as an Enhanced StudioTrax CD that includes accompaniment and performance tracks, poster, program, clip art, and composers' info. Songs include: Alphabet Soup; The Beanbag Rock; The Chicken Song; The Mirror Game and more!
​
Off Their Rockers
The story takes place in a senior center where all is quiet and calm; that is, until the Center Director decides to use music and dance to bring fun and excitement into the lives of the seniors. Through song and dance, the seniors "get off their rockers" and join in the fun. Songs include: Old Time Rock and Roll; The Banjo's Back in Town; At the Hop; Rock Around the Clock; The Peppermint Twist and Dancin' in the Street. 25 minutes.
​
Don't forget to check out our latest selection of FREE downloads!